History of
Tsutsui
Koso Tsutsui, the founder of the restaurant, was born in the town of Ono in Fukui prefecture on May 8, 1912. His grandfather, Rihei Tsutsui, was a traditional indigo dyer. When business started to decline due to advances in chemical dyes, he opened an upscale, traditional restaurant called Konri-tei.
Koso went to Tokyo and worked as an apprentice at Ginza Suehiro. He became independent in 1950, opening a restaurant in Kayabacho-Shinkawa, which he later moved to Akasaka in 1955. Ever since then, his brilliant ideas have become the foundation of Japanese Western-style cuisine.
Because we believe that the pleasures of the table come from being able to enjoy food and that meals should not be a source of apprehension, we have developed Japan's Western-style cuisine which can be eaten with chopsticks.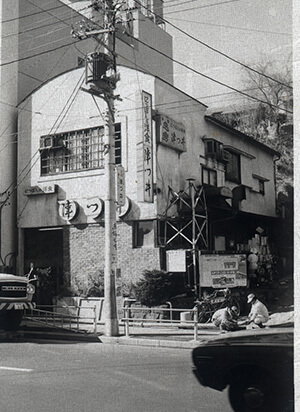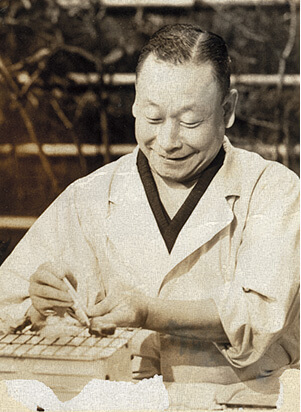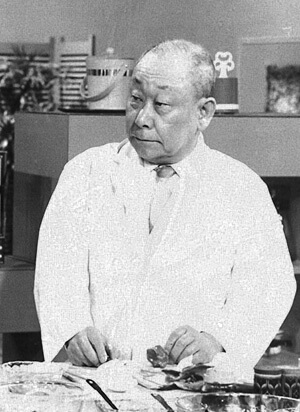 Japanese Western-style Cuisine
Akasaka Tsutsui is a Japanese Western-style restaurant located 6 minutes on foot from Akasaka Station on the Tokyo Metoro. The restaurant has been serving delicious Western-style food since its founding in 1950. The famous beefsteak bowl created by the restaurant's founder, Koso Tsutsui, is a perennial favorite and continues to evolve and reach even greater heights of flavor.
The restaurant consists of two floors, one at ground level and one below. The ground floor houses the main dining area and private dining rooms, whereas the basement floor consists solely of private dining rooms. Enjoy your meal in a luxurious atmosphere overlooking the waterfall in the garden.
We invite you to savor our Western-style cuisine suited to the Japanese palate.
Akasaka's famous Beefsteak Bowl
Many connoisseurs of Western cuisine have fallen in love with our Beefsteak Bowl. Premium Japanese Black sirloin is marinated in a blend of tamari soy sauce, mirin, and sugar, then excess fat is drawn out over the grill. The result is our pride and joy— meat that is tender and moist, with the sweetness of the marinade blending with melting butter and black pepper.
Lunch Menu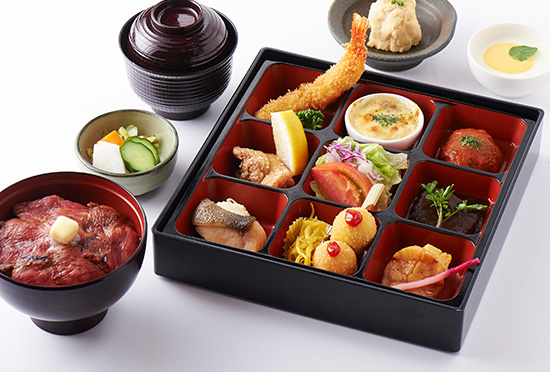 Daigo Set

¥4,100

*Prices exclude tax.
Menu information
Appetizer
9 types of hors d'oeuvres
House-made dessert
Akasaka famous beefsteak bowl (mini)
Red miso soup, House
made pickles
A la carte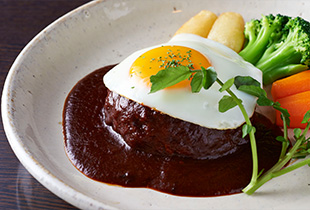 Hamburg Steak


(Your choice of sauce: Japanese style, tomato, or demi-glace)

¥1,850
Plump and juicy Hamburg Steak is made from top grade A5 Japanese Black beef. Choose from three different sauces to suit your tastes.
Crab Cream Croquette

¥1,300
A crispy outer shell encloses a generous amount of snow crab and white sauce. Served with tomato sauce.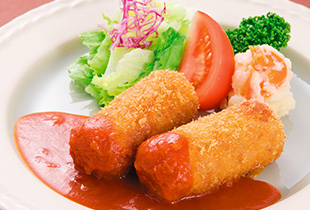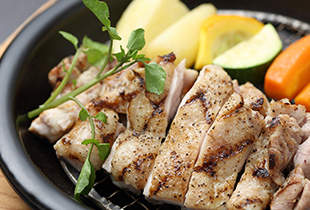 Grilled pepper chicken from select, free-range chicken

¥2,200
Enjoy the natural sweetness and umami of domestically raised chicken specially selected to be the most delicious of the day.
※Prices exclude tax.
Dinner Menu
Weekdays

Enjoy the Japanese atmosphere of the spacious setting.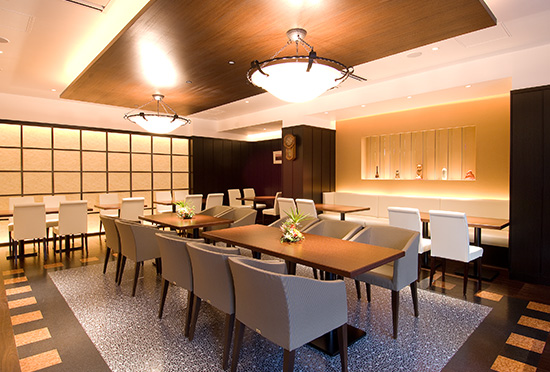 ◆Akasaka Gozen◆

¥3,750
Menu information
Appetizer
Crab Cream Croquette
Deep fried shrimp
Teriyaki scallops
Beef stew
Ginger Beef (shogayaki)
Seasonal dish
Rice, red miso soup, pickles
Prices exclude tax.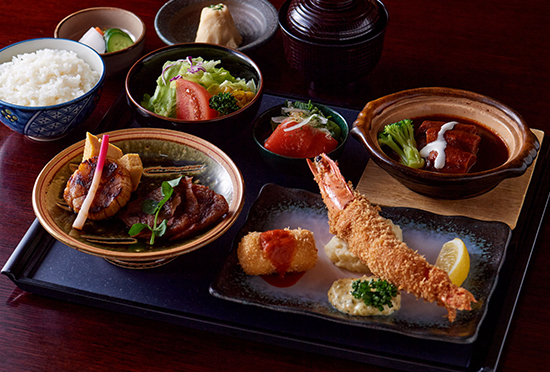 Holidays

Special occasion dining in the private rooms on the lower level.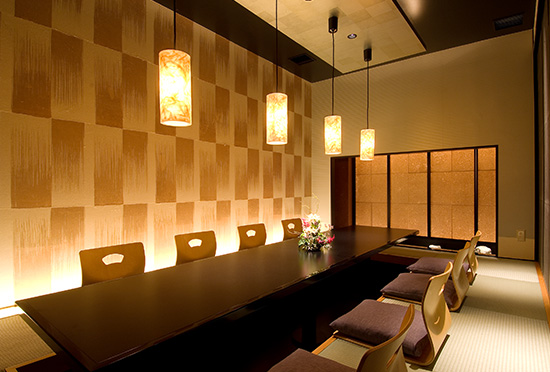 ◆Hinokizaka Course◆

¥6,000
Menu information
Appetizer
2 appetizers
Seasonal sashimi
Fried platter
Marseille stew (mini)
Salad
Meat dish
[Choose from Akasaka famous beefsteak bowl, beef stew, tongue stew, or ginger beef (all mini sized).]
Rice, red miso soup, pickles
House-made dessert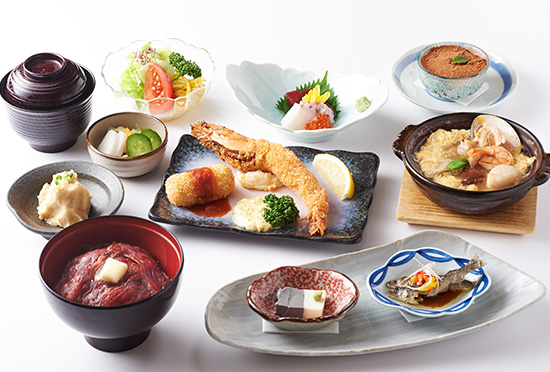 A la carte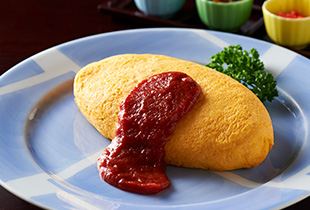 Omurice (omelette rice)

¥1,540
Omurice (omelette rice) served by a Western cuisine restaurant, reminiscent of the past. Three eggs are used, and homemade tomato ketchup sauce is poured on the smooth surface. The ingredients that are cut slightly larger and the unique ketchup rice provide for an enjoyable texture.
Beef fillet cutlet

100g ¥5,800
150g ¥8,000
180g ¥9,300
Thick-cut beef loin has a crispy batter but stays rare in the center. The more you chew, the more the flavor of the meat comes out in this extravagant dish.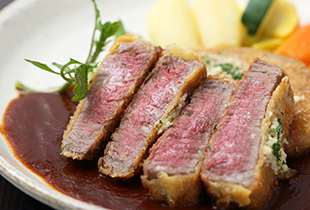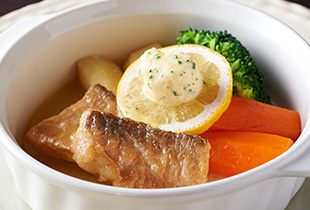 Fish of the Day

¥2,000~
The freshest fish of the season, cooked according to the best methods for that particular fish. Select a method to suit your tastes, such as salt-grilling or sauté.
※Prices exclude tax.
Drink
Sake
Jikon Tokubetsu Junmai (Mie)
Tokkuri (sake flask) ¥1,900
Glass ¥1,300
Kokuryu Tokusen Ginjo (Fukui)
Tokkuri (sake flask) ¥1,700
Glass ¥1,150
Hiroki Junmai Daiginjo (Fukushima)
Tokkuri (sake flask) ¥1,800
Glass ¥1,250
Sharaku Junmai Ginjo (Fukushima)
Tokkuri (sake flask) ¥1,300
Glass  ¥850
Kamoshibito Kuheiji
Junmai Daiginjo (Aichi)
Tokkuri (sake flask ¥1,350
Glass  ¥900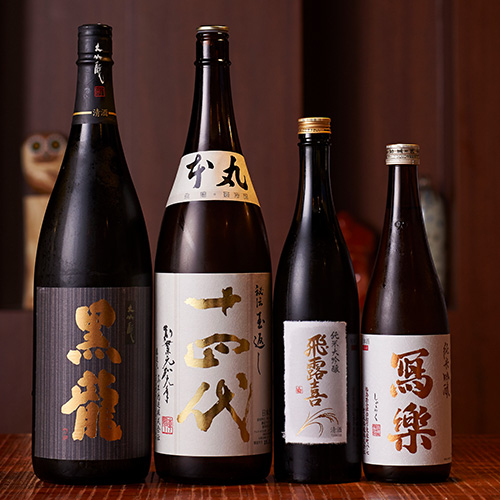 WINE
Champagne
Moet et Chandon Brut Imperial
750ml ¥11,000
375ml  ¥7,000
Dom Pérignon
750ml ¥32,000
White wine
| | |
| --- | --- |
| Vin de Pays du Var (Vermentino) | 750ml ¥5,300 |
| Chablis Domaine de Pisse Loup (Chardonnay) | 750ml ¥6,000 |
| Puligny-Montrachet | 750ml ¥14,300 |
Red wine
| | |
| --- | --- |
| Sirius (Merlot, Cabernet Sauvignon) | 750ml ¥4,800 |
| Au Bon Climat "Tsubaki Label" (Pinot Noir) | 750ml ¥6,800 |
| Corison Napa Valley Cabernet Sauvignon | 750ml ¥18,750 |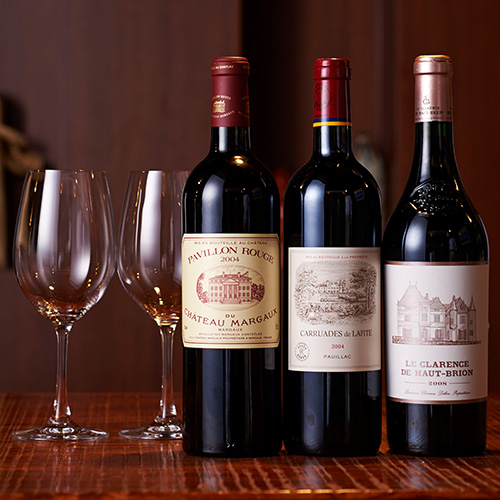 Shochu
Onoya (Wheat)
Bottle ¥4,900
glass  ¥650
Sato (Wheat)
Bottle ¥6,200
glass  ¥750
Kawagoe (Potato)
Bottle ¥5,700
glass  ¥700
Sato Black (Potato)
Bottle ¥9,500
glass ¥1,150
Ganbou Taru Kichi 40% (Rice)
Bottle ¥7,200
glass  ¥950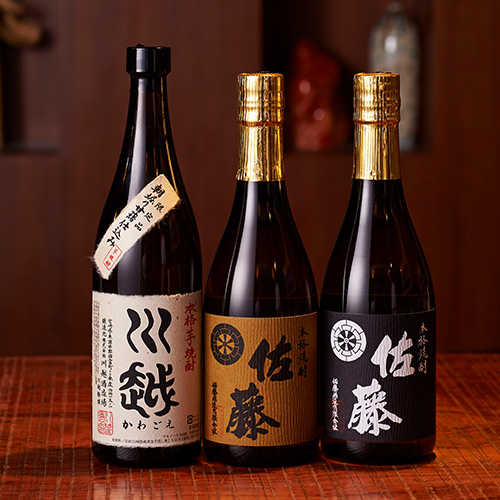 Other
【Beer】
| | |
| --- | --- |
| Suntory Master's Dream (draft) | Small glass ¥550 / ¥700 |
| Ebisu (medium bottle) | ¥700 |
| Asahi Super Dry (medium bottle) | ¥700 |
| Suntory Premium Malts (small bottle) | ¥550 |
| Kirin Lager (small bottle) | ¥550 |
| Kirin Free (no alcohol beer) | ¥500 |
| Suntory All Free | ¥500 |
| Sapporo Free | ¥500 |
【Cocktail】
| | |
| --- | --- |
| Cassis and soda | ¥700 |
| Fuzzy Navel | ¥700 |
【Whiskey&Brandy】
| | |
| --- | --- |
| Suntory Hibiki Japanese Harmony | ¥800/bottle ¥17,000 |
| The Macallan Single Malt Whisky (12 years) | ¥950 |
| Wild Turkey (8 years) | ¥500/bottle ¥10,000 |
【Digestif】
| | |
| --- | --- |
| Aragoshi Plum | ¥550 |
| Aragoshi Peach | ¥550 |
※Prices exclude tax.
Seating
There are private dining rooms on both the ground floor and the lower level.
【Notes on private dining rooms】

・Please refrain from bringing children on weeknights.
・A separate 10% service charge will apply.
Lower level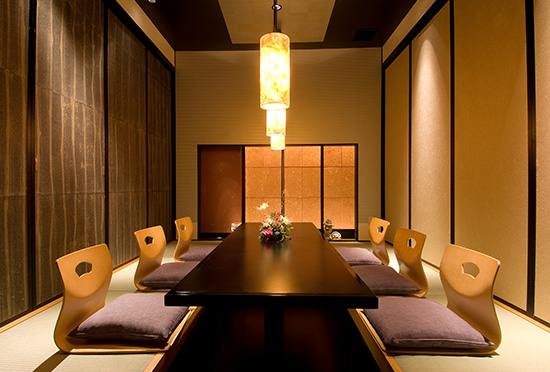 For 2 to 6 persons.
Kotatsu table with a sunken area underneath for legs.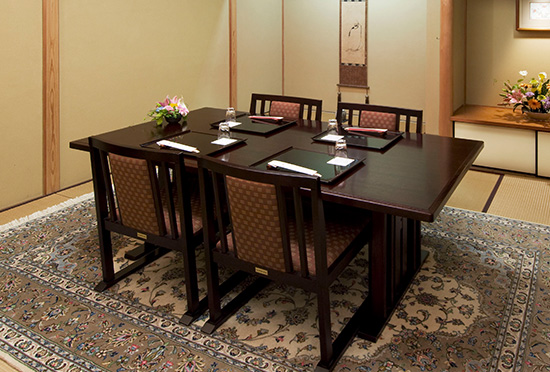 Dining tables in Japanese style room.
For 2 persons onwards.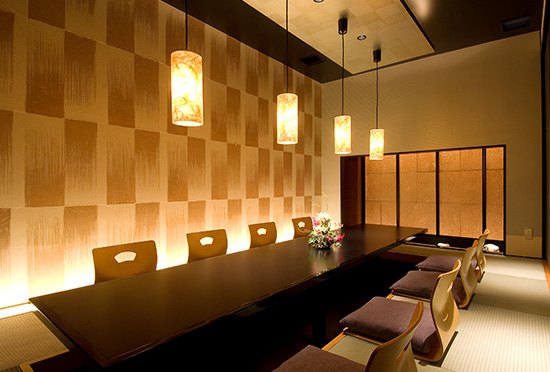 For 4 to 10 persons.
These serene private dining rooms have sunken kotatsu tables.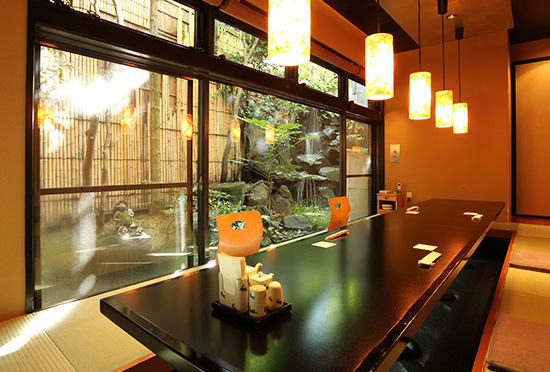 For 6 to 10 persons.
Garden-facing room with an open and spacious atmosphere.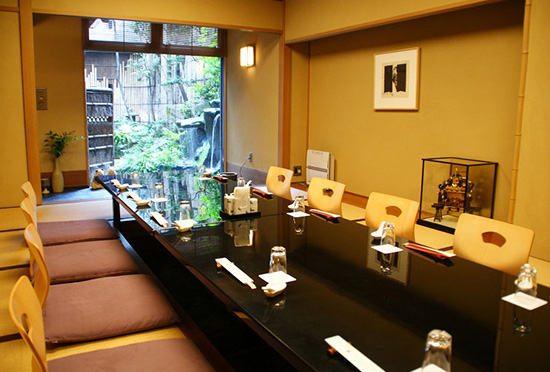 For 8 to 14 persons.
Only available with order of Nambuzaka course or above.
1F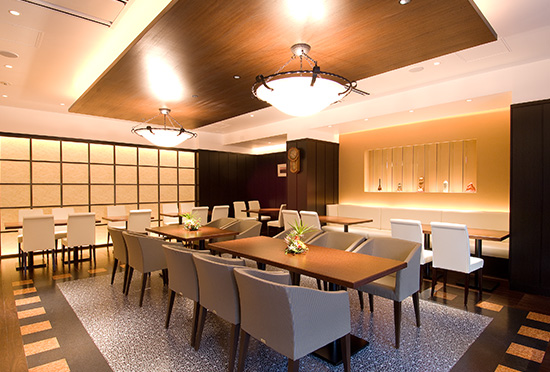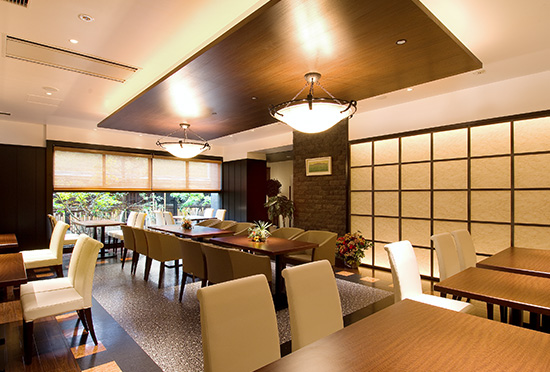 Tables for 2 persons onwards.
Large and open space.